Members Rides
Feb - Apr '14

Nov - Jan '14





Aug - Oct '12

May -July '12

Jan-April '12

Oct/Nov/Dec '11

July/Aug/Sept '11

April/May/June '11

See The
Gaseous Gazette
for More...
Members Rides
Terry Johnson's '34 Ford Cabriolet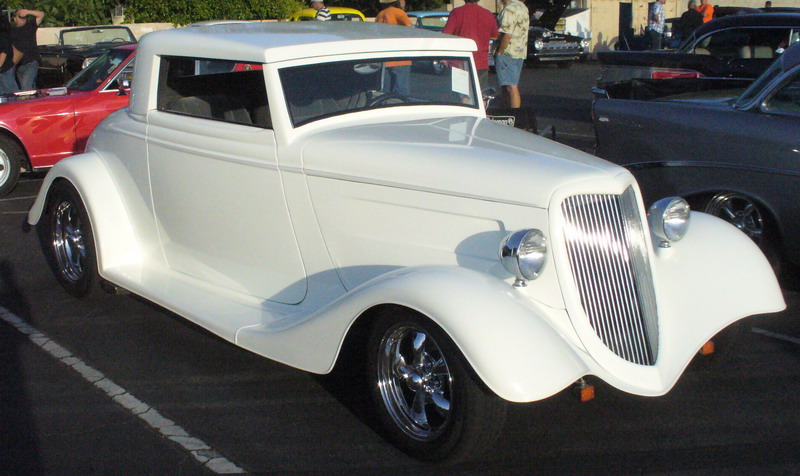 This car of the issue belongs to Terry Johnson. This beautiful 34 Ford Cabriolet is a Street Beast Kit. It had two previous owners before Terry bought it. It was a started project but never completed. Terry soon found out that the person who welded it did not know what they were doing, so he decided it was time to just start over as if it was never started. For one solid year, every night and most weekends, Terry along with his neighbor Henry Gonzales, worked feverishly to get the car ready for the 2013 Temecula Car Show. They did make it and were worn out. Once the frame was reworked the rear end from a Mustang Two was fitted and then it was time to mount the body. This can be a very hard job on a kit car to make sure everything lines up. Looking at the finished project I would say they did a great job. Next it was time for paint. The car was brought to Miracle Auto Body in Hemet and Terry asked for the whitest white he could get. Next the interior was done by A1 Upholstery in Hemet and it turned out beautiful. American Wheels were installed and the car was ready for a power plant, which is a 350 Chevy engine along with 700R transmission and 378 rear end gears. Terry did a great job on this car considering Street Beast closed over 10 years ago, so there was no one to call with any questions. Terry is a newer member to the Old Farts Racing Team and we welcome him to our group!
Ford Phil & Sharon Preston's '57 Ford Custom 300 2 Door Sedan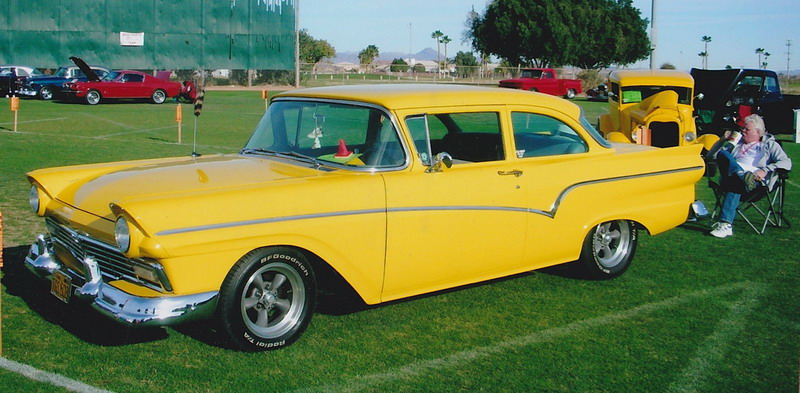 Ford Phil & Sharon Preston's car is a 1957 Ford Custom 300 2 door sedan. We bought the car from a salvage yard in October 1995 on Main Street in Riverside. Phil was working full time then so he spent many evenings & week-ends that we weren't in Glamis or at the river, or at Car shows with our '56 Ford pick-up restoring the car. It was completed in Nov. 1996, he did all of the work himself. Sharon helped by documenting the progress with pictures, as the restoration was being done. Engine is a Mustang 5.0, Transmission is a Ford AOD, rear end is Ford 9" with 3.50 to 1 gear ratio, heating & A/C is Air-tique, wipers are electric by power window specialty, wheels are American Mags, tires are BF Goodrich TA radials. A neighbor, Mike Kennedy painted it Chrome Yellow in his garage. Ron Mangus owner of Custom Interiors did the interior with shades of gray, yellow interior stripes on the door panels and across the seats. He also put shoulder harness seat belts in the car. We have driven this car for 18 years, our 17 & 14 year old Grandkids rode many miles with us in their car seats in the back seat. We have driven this car all around California, Arizona & Nevada to car shows.

Ray Carr's '40 Studebaker Champion Business Coupe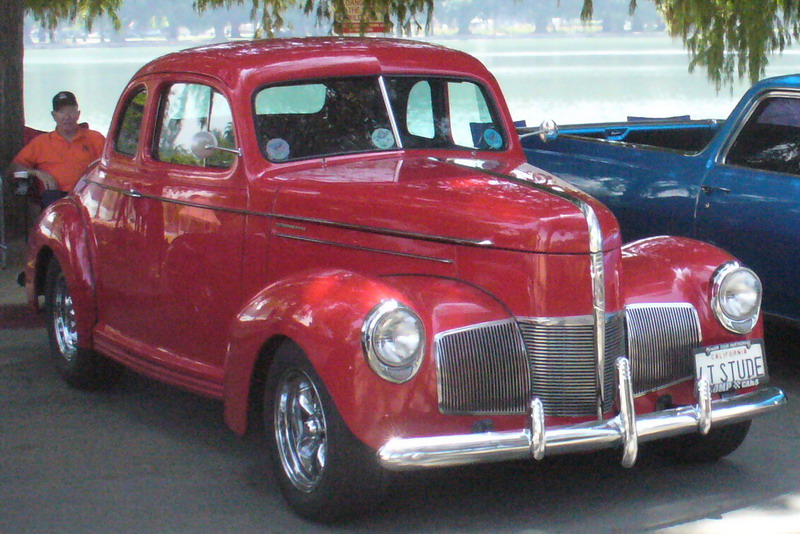 This is Ray Carr's 1940 Studebaker Champion Business Type Coupe. Ray bought the car after he retired in the fall of 1990. This was his first adventure in hot rodding. That just proves you are never too old, or young for that matter to like hot rods. He paid $1000.00 for the car with no engine and trans. When he first saw the car he thought it was ugly because it had been sitting for so long and had rust on it. He had to use his imagination to see what the finished product would be. A few fun facts about Studebaker, they started by building wheel barrels and cover wagons in the gold rush days. Their front end suspension is what GM used as a base for some of their Corvettes.
Ray wanted to do a complete frame off build of this car, so he along with his buddy Barry Liggon, removed and either rebuilt or replaced every part on this car. It went back together with a Mustang front clip. It has a Ford Maverick rear end and is powered by a GM crate 350/300HP engine along with a 700R trans. The original upholstery was done in a beautiful grey color at Quality Upholstery in Colton by Ernie Mangus, yes Ron's brother. The tilt steering column is from a Cadillac and the gauges were rebuilt by United Speedometer. The body was painted Indian Porsche Red and the car sports American Mag chrome rims. Cruising he gets 20 MPG. Ray wanted to build this car to be driven, and it has all over the country. He now has 300,000 miles on it.
The car made its maiden voyage on July 1st 1992, back to Ray's hometown of Durant Ok. His mother had been waiting to see it. He took her all around in his new ride and she loved it. His mother was 88 at the time. In 1997 there was a National Rally at the original Studebaker factory in South Bend Indiana. Ray got a second place award for modified cars. He was one of a few participants who drove there. The rest were trailered.
A Few years back Ray took the car up to the top of Pikes Peak, 14,110 feet high. They don't allow cars all the way to the top, but Ray wanted a picture so he had Margaret stand watch for him while he snuck up there.
If you get a chance, sit down and talk to Ray about this beautiful car. He has some great stories and you will be entertained.
Brad and Diane's '69 Corvette Stingray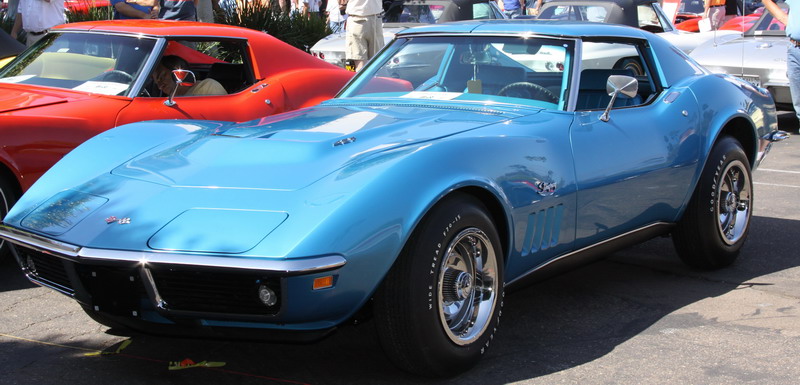 Brad and Diane's Car is a 1969 Corvette Stingray Coupe in Leman's Blue with an 427ci-390hp Motor, and the whole car has been completely restored to like new all original condition.
He found this car in 2005 at a divorce sale and it was just too good a deal to pass up. He told Diane that he'd never find a deal like this again, but all she saw was a body and a pile of parts. But since brad finished his Camaro, he was going through car building "withdrawals"; she figured this would make a great project car to keep him occupied. Little did she know, it became the "other" women in their lives. After getting the car home, he stripped it down and boxed and labeled every single part, it sat this way for a couple of years while waiting for parts to be found. Over the next 7 years, the car slowly came back together, with the help of many other Old Farts lending a hand, it was mentioned that Mark G had been sanding for a month. When finished, Brad said that "Every bolt on this car is correct and exactly as it came from the factory". This car also won K&N choice award at the 2013 Show and Go car show. Diane did set one condition to doing this build, it was to be her car when he finished. So it's ether Brad's Corvette, or Diane's corvette, depending on who you ask.

Phil Leatherman's "Wild Thing" '31 Chevy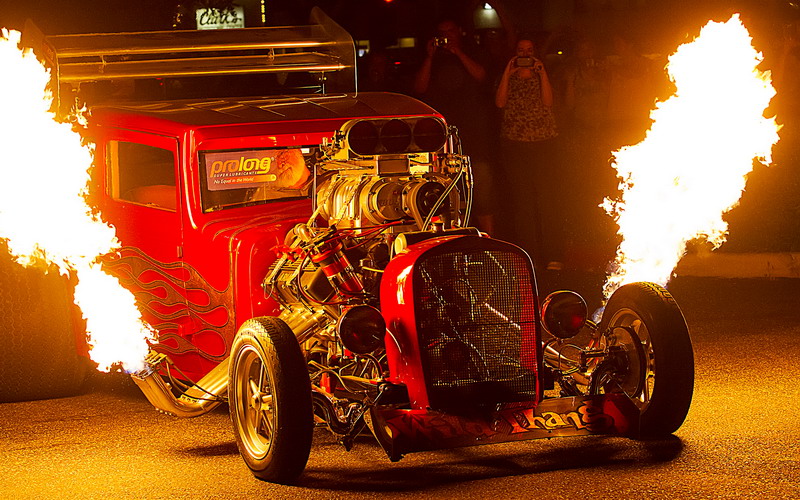 "Wild Thing" is our car of the issue. Owned by Phil and Mary Leatherman, this beautiful 1931 Chevy is one "hot" ride. It started in 1990 when Phil bought just a body for $100.00. He had just opened up Extreme Automotive in Corona and had very limited funds and found a set of racing seats for under $100.00. When he went to put them in the car they were too big. With no additional money to spend he did what any car guy with no money would do, he got out the saws all and cut the car in half and extended the rear by 13 inches. Through the years Wild thing has gone through a few changes including paint schemes and engines. What started out as nothing turned it an awesome hot rod. The car is now candy red with flames done by Dave Wittle. Ron Mangus did the interior and if you know Ron's work then you know it is perfect! A Ford 9 inch rear end is under the back and disk brakes are in the front. The power plant is an Arias 610CI aluminum engine. In 2005 Phil had a new idea of flames coming out of the zoomies. The search for the right fuel for this was scary. Every fuel was tried, gasoline, turpentine, alcohol, acetylene gas, lacquer thinner and acetone. What worked best was the cheapest gasoline you could buy. Then Kenny Asche helped out with the electronics and got the flames going good. Over the years and some fine tuning, Wild Thing now shots out flames over 20 feet high and thrills crowds everywhere including Show and Go. At Show and Go this year the flames were flying and Phil felt something wrong on his way back to the lot. It turned out a valve seat had come out of the cylinder head. Phil along with his son Phillip took the heads off of the engine and it looked pretty bad. The guys from Wayne's Engine Rebuilders came to the rescue and had one of their guys go in on Saturday morning and fix it and brought it back to the show. By 2:30 Saturday afternoon Wild Thing was out putting on another display for the fans. The crowd at Show and Go loved it as well as the story about fixing it.
Make sure to check out the detail on this car when you get to see it in person. It was a winner at The Grand National Roadster Show and made appearances at Blackies! What a cool ride and it belongs to some great people!

Gary Echito's '54 Ford Courier Sedan Delivery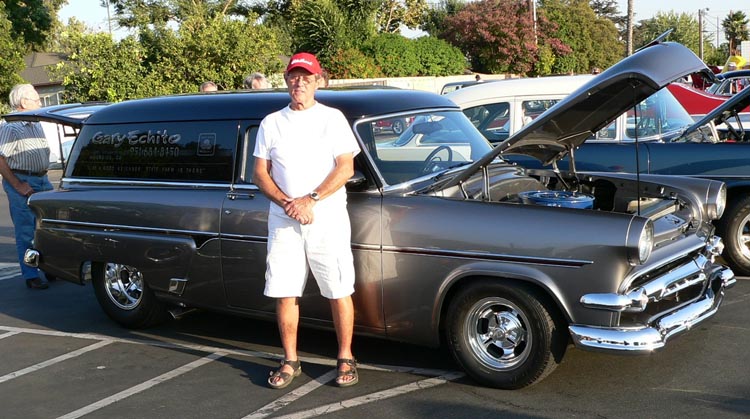 Gary Echito's beautiful 1954 Ford Courier Sedan Delivery is our feature car. Mark Chavez originally brought this car from Oregon and it needed restoring. It then went through the hands of Dave Barnekow and Gary bought it from Pat Davis. Dave McEniry, who spent two and a half years two days a week in Gary garage restoring this car, said "Someone else would buy it, work on it for a while and put their tail between their legs and sell it". When Gary and Dave got to it they took the frame to Midge, at Wasson's shop and he put on a 1969 Camaro front clip and a TCI rear clip complete with a 9 inch rear end with coil over shocks. Midge told Gary "don't ever tell anyone that I put a Chevy clip on a Ford". The chassis was completed with Magnum four wheel disk brakes, a Z28 steering box, custom aluminum fuel tank by Dave Ford and an Aluminum radiator with dual electric fans by Ron Davis. Finally a tilt steering column was added. The engine, a 429 Ford from a 1969 Lincoln was built by Troy Davis along with a Camp Cams camshaft, Edelbrock intake manifold and topped off with a Holley 750 carburetor. After the engine was installed it was fitted with an Air Vintique AC system and custom made headers by Chad Hundley. The entire exhaust system was coated by Bob Godfrey at Turbo Hot. To finish the rolling chassis, Gary found some original 1960 matching U S Indy Mags. They were polished up and installed with knockoffs from Billet Specialties. Now it was time for the interior and body. The driver seat is from a 1987 T-Bird with a six way adjustment on it. The upholstery which is grey leather and vinyl along with black wool carpet was done by Dan Brown in Highgrove. As with a lot of parts, Gary got the stereo out of a Ford Ranger at his buddies wrecking yard. The only part left to finish this ride was the body. Dave McEniry did all the body work and painted it with Sickens 2004 BMW black sapphire and sterling grey. The final touch of the graphics was done by both Gormo and McPeak.
Most of you have probably seen this car at the shows, but if not make sure to check out the detail that was put into this awesome automobile.

Dan Welch's '68 Pontiac GTO Convertible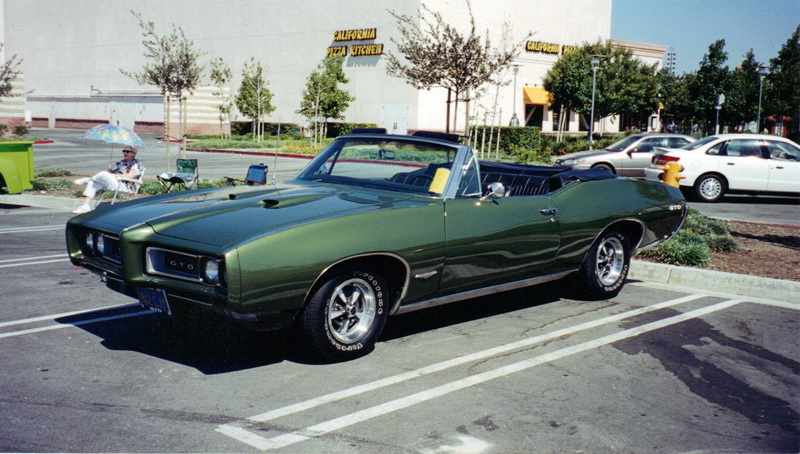 This 1968 Pontiac GTO Convertible belongs to Old Fart member Dan Welch. Dan ordered the car brand new in August of 1967. He picked all of the options that he wanted. The only power equipment is the convertible top. The color of the car is Verdoro Green. It has a 400 CI engine that carries 350HP. The transmission is a Muncie 4 speed with 3.23 rear end gears. Dan took delivery of this beautiful ride in October 27, 1967 from a dealer in Ft. Worth Texas. Ordering it the way he wanted the price was $4923.92. How cool is it to here a story like this where a car is not only a one owner but was also a special order. Dan just recently had the engine rebuilt by Wayne's Engine Rebuilders and Billy Nelson. This is a nice ride for a factory original, when you see it at the shows make sure to check it out.
Henry Hemborg's 33 Ford 3 Window Coupe
This beautiful 1933 Ford 3 window coupe is Henry Hemborg's new ride. This car has been in the Old Fart family for several years owned by John Glasgow. It happened he was looking for a 1955 Chevy and Henry just happened to have one. Hence, a trade was worked out. The car has a TCI frame with 4 bar suspension and a rear 4 link triangulated suspension. It has a Gibbons body that is chopped 2 ½ inches and equipped with air conditioning and power windows. The car has a full stainless exhaust along with a chrome drive shaft. With the help of Billy Nelson, Dan Welch, manual Zamora, Eric Newman and his crew some changes were made to the car that included moving the seat back 4 inches and raising it up 1 ½ inches. They also cut the steering yolk 2 inches and the brake pedal 1 ½ inches. A new brake system was installed and it was ready for the road.
Russell Utz's '64 Ford Fastback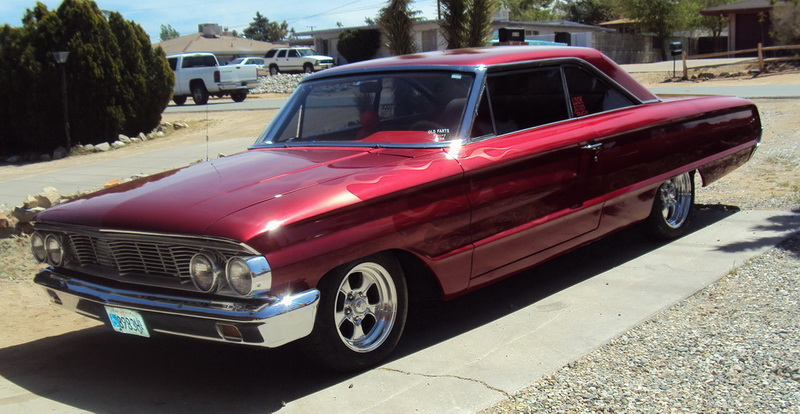 This 1964 Ford Fastback belongs to Russell Utz. It started life with a 289 engine and automatic transmission. However when Russ got the car 5 years ago it was set up for the drag strip and was so radical that it would barely run. So he took off one of the four barrel carburetors and set the timing back to make it a cruiser. The dash was modified with switches and his son took all of them out and installed a Sony Stereo along with speakers in the front and back. It took them a long time to make the car street legal. Russ added ghost flames, but never cared for them much because they were on the outside of the paint. After a small accident, adding some of his money along with the insurance he had the car painted with new ghost flames. The color is a 2012 Ford F150 color with a gold base. The flames are a gold base pearl essence and the car has four coats of clear on it. The interior is tan and red. Tint was added to the windows for the full effect. The car has a 427 Ford big block engine,with a C-6 transmission, AC and PS.
This car is beautiful and worth the time to check it out. You can usually spot Russ selling the engine raffle tickets for Show and Go all year long. He said after being involved with many car clubs, one of the greatest things he ever did was join the Old Farts Racing Team after another Old Fart, and best friend Ronald Carwacky talked him into it. Ronald has since passed away and Russ misses him a lot
Earle & Lila's 55 Ford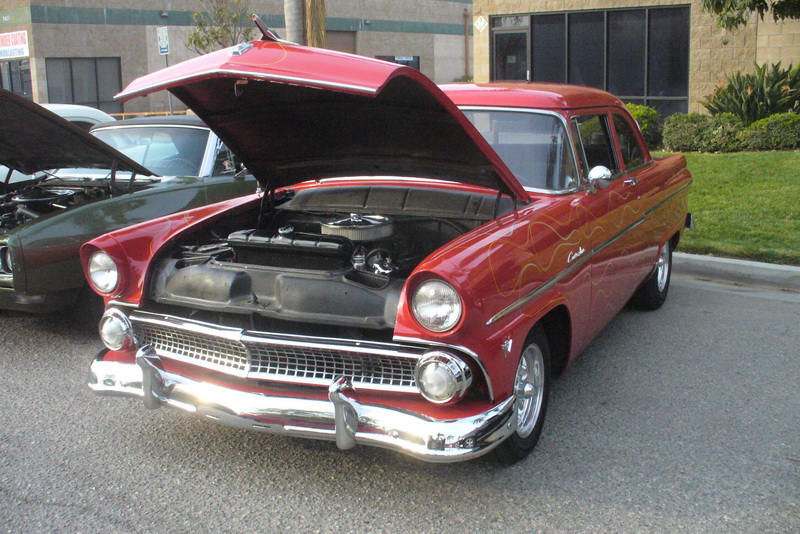 This 1955 Ford belongs to Earle and Lila Basham-Casteloes, They found it about a year and a half ago while out on a ride in Redlands. It was sitting in someone's yard with a for sale sign on it. Even though they were not looking for another car, they decided to take a closer look at it. Lila wrote down the phone number and called the owner the next day while Earle was at work. She agreed to buy the car with one stipulation; it had to fit in the garage. With a little creative arranging, Earle was able to make it fit. It is amazing what we can do when we really want something bad enough. The car is a 1955 Ford Customline, 2 door sedan. It is painted red and has grey interior. The power plant is a 351 Windsor engine with a C4 transmission. For that nostalgic look it is finished off with some American Mag Wheels. Future plans are to add air conditioning, power steering and disk brakes.
Hal Thoma's  1968 Chevrolet Camaro R/S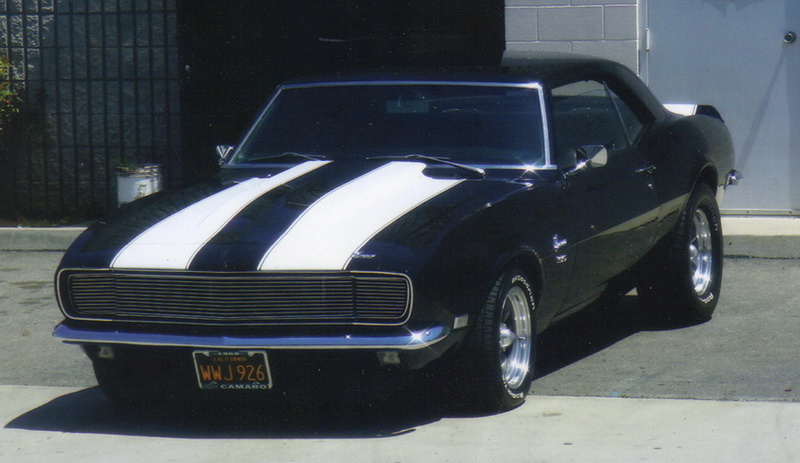 This beautiful 1968 Camaro R/S belongs to Hal Thomas. It is painted black with white "SS" stripes. The interior is also black. The engine is a 350 Chevy that is completed with a March pulley set up, and topped off with an Edelbrock 750 carburetor. The firepower comes from an electronic ignition and the fuel is delivered using a Holley electronic fuel pump. To get the exhaust out Hal has Doug's headers along with some Flowmaster super 44 mufflers. Hal gets through the gears with a Trimec 5 speed trans and a hydraulic clutch. The suspension has rack and pinion steering with power assisted disk front brakes and drum rear. It has a GM 10 bolt rear end with 373 gears and traction bars. To help out the suspension it has Hotchkis sway bars. If you get a chance, check this car out up close, it is nice!
Pete and Donna King's 1972 Chevelle SS 454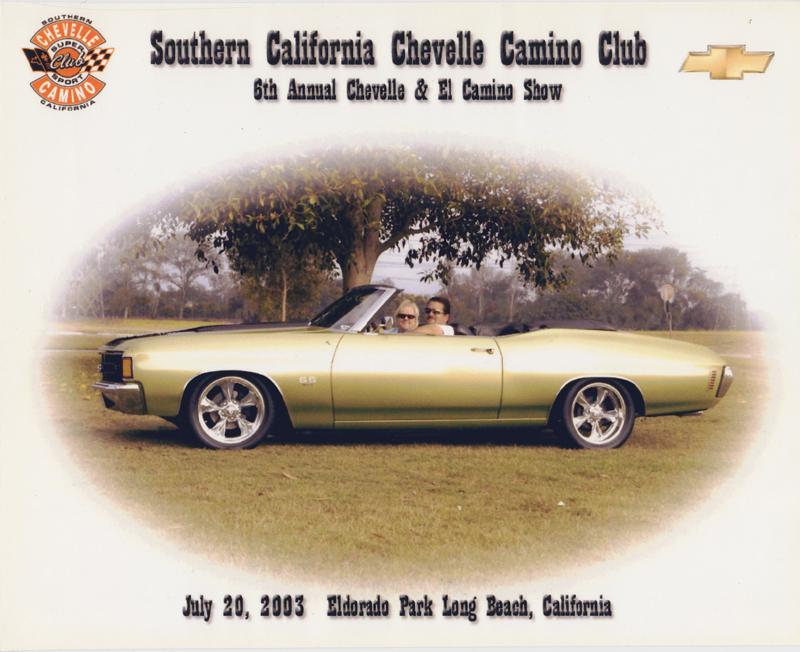 Pete and Donna purchased the car in 2003 after deciding that they wanted their own hot rod to attend car shows with their son Jake, who has a 71 El Camino, along with the rest of their Old Farts friends as well. It was purchased from a man who was in the middle of a divorce and had to sell his assets. As they were driving away in the car, the owner kissed the car on the hood goodbye. The seller did not know the history of the car, but the car's overall condition spoke for itself. Not much was needed in the beginning, but Pete had to make it his own. First, a big block stick shift car needed power steering which it did not have. Then a new exhaust from Jerl's was added, along with new 17" Boyd wheels which made it look and sound like a muscle car should.Speaking of sound an in dash i-pod sound system was added. Son Jake color sanded and polished the existing paint to show quality. They attend mostly local shows with the Old Farts, but have ventured out now and then. The longest journey traveled was to Yuma , AZ which should only take 4 hours, but took the Old Farts 8 hours. Pete and Donna were reminded that it is not the destination, but the journey you take. Pete uses his convertible each year to chauffeur the "Old Fart of the Year" at Show and Go. After Mark followed them one year in the show he decided that it was time to redo the motor. So, with the help of Mark, Brad, and others the motor was rebuilt. While rebuilding the motor, it was decided that the old 4-speed had to go and a new 5-speed transmission was added which made the car a better cruiser. Being an Old Fart has not been just about the cars to Pete and Donna, but the friendships you make along the way! See you on the next run....
Bill & Charlotte Skinner's 1965 Chevrolet Chevelle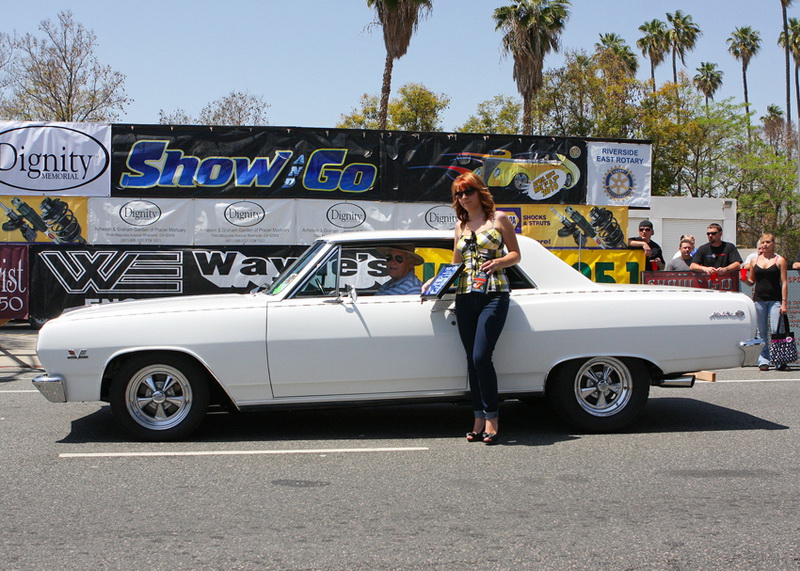 This 1965 Chevelle SS two-door hard top arrived at Bill Wasson's shop as a complete basket case. It left there like most cars do;  a beautiful hot rod. The power train is a BBC 396ci  engine, a 700R overdrive transmission, and a 12-bolt rear end. The car is equipped with air conditioning, power steering and power brakes, and a custom fabricated aluminum firewall. The wheels are Cragars; which are something you can never go wrong with on a Chevelle. The car was completely rebuilt at Wasson's by Wes Chandler and Terry Proctor along with lots of direction from Mr. Skinner himself. Wes finished the car with a trick custom paint and graphics job that you have to check out next time you're close to this awesome ride. The only problem during this project is that Skinner had to have a place to put it when it was done, and his 6 car garage was already full… So what do you do in a case like that? Simple, build another 6 car garage – HA!  Problem solved!
Ralph Schroeders 1927 Ford Roadster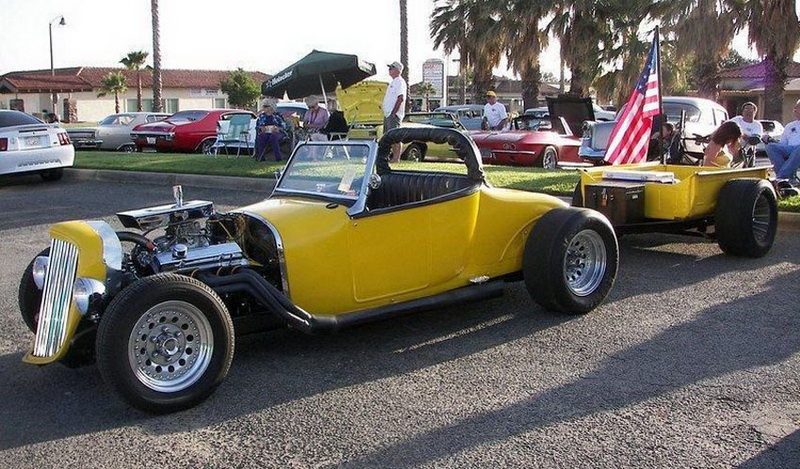 Bestowed upon us once again was another act of fate when we found a 1927 Ford Roadster. We not only loved this car but there was other meaning to us finding it. As time went on, the "27" number was fitting into our lives more and more. We met on the 27th of the month, our anniversary is the 27th and Delilah the dog was born on the 27th. And now a '27 Roadster! ] Our eye-catching bright yellow Roadster has a 10" Lecarra steering wheel, a '33 front grill, 350 Chevy small block, 350 automatic transmission with a custom hand grenade shifter and various bullet accessories, some real and some simulated. With a Ford  9" rear end and slicks straight off a local race circuit car, this roadster has reached 117mph, so far -

Without doors, a top, a hood or a trunk, additional space was indeed needed. So, as its newest cosmetic addition, this bright yellow Roadster is pulling a 1929 Ford Model A pickup bed as a trailer. Not only for chairs, an EZup, bigger ice chest, Delilah's stroller and many outfits, but also for any other additions we may pick up along the way. If you have ever seen us leave an event with a few raffle prizes, you will completely understand this statement! Cruising with the Old Farts Racing Team has been completely enjoyable and we are totally looking forward to this year's Mystery Cruise!
Mark Godfrey's 1963 Buick Special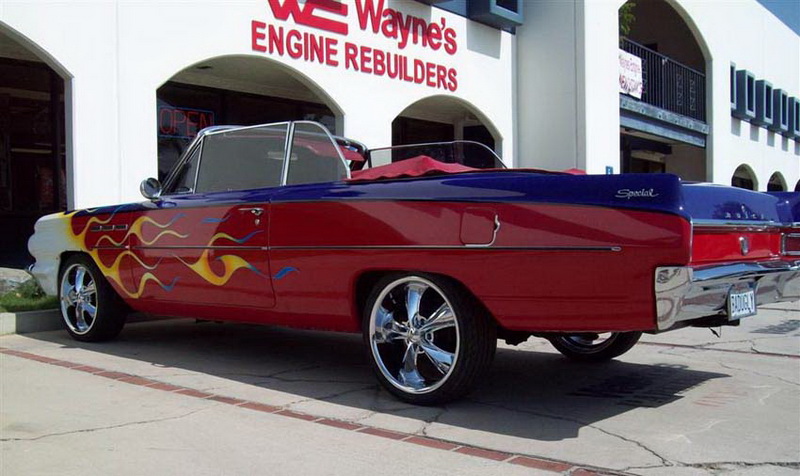 "BADUGLY"  That is what the licenses plates say on Mark Godfrey's 1963 Buick Special. Ken Asche got the car from Wayne Walters before he passed away and he and Painter Mike decided to make a red car into a red and purple car with flames. That is where the name of the car came from. When I got the car we had disk brakes put on the front, then took out the original V-6 engine and replaced it with aluminum 215 Buick that was actually an option that year. Thank you to Danny Hensley who happened to have one lying around. The engine was quite a project as everything has been on this car.  The only thing on it that was not aluminum was the valve covers and oil pan. Offenhouser still had the molds and made a set of valve covers and Alex Decuire made an oil pan and then everything was polished including the transmission. A custom aluminum and you guessed it, polished radiator was made by Wally from Stewarts Radiator. Bob Godfrey painted the engine compartment and coated the entire exhaust that was custom made by Chad's Custom Headers. The big hold was the wheels. After putting on disk brakes, nothing would fit right. We even had the car to Chip Foose's shop where he personally measured it and was having wheels made for it. Unfortunately he had some people leave his business and they never got made. Chad finally stepped in along with his buddy and got some wheels to fit with a lot of work. So at least it's on the road now. The interior is all original and in great shape, but the car is going to Ron Mangus to have a custom job done. It was pretty funny when Ron looked at the car and said "that is some weird colors to work with, but he instantly came up with an idea and I can't wait to see it done. The car is definitely different and off the wall, but it is pretty cool to see people's reaction when they actually look under the hood and see the polished engine. A special thank you goes out to Rick Sampson and Chuck Williams from Wayne's Engine Rebuilders, and Randy & Red Thornal for all their work that went into this project.
Denise & Al Martinez' 1941 Chevrlet Special Deluxe Coupe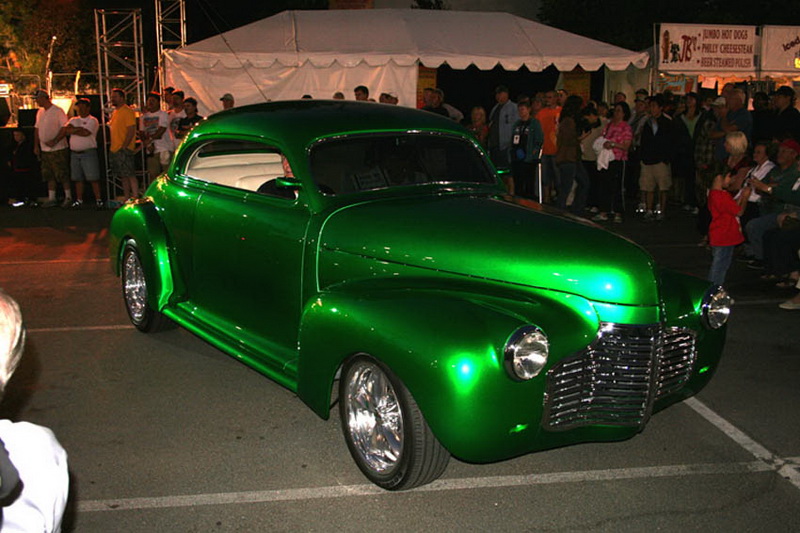 The hot rod seen above represents an absolutely outstanding example of a completely unique custom designed and fabricated street rod.  While retaining the basic external looks and characteristics of this sixty year old classic Chevy, this now rare '41 features virtually all the luxury items and creature comforts that you might expect to find in a modern high performance automobile. Features such as a high performance computer controlled & fuel injected Corvette LS6 motor, 700R4 automatic transmission, 4-wheel disc brakes, rack & pinion steering, A/C, Corvette suspension all around, all leather luxury interior with associated entertainment electronics.  The custom mixed Money Glow Green paint adorns the exterior. Also worth noting is that every single body panel of this award winning street rod has had some kind of customization performed on it.  The roof of this '41 original five-window was drastically chopped and the post removed to give an open coupe appearance.  Notice also how the top halves of the doors were cut off and molded into the roof line so that the window channels are partially in the doors and partially in the roofline! The caliber of work performed on this hot rod over seven years is unbelievable.  Many thanks to Wes Chandler, Terry Proctor and Max Upholstery
Rich & Karen Mehas' 1934 Ford Tudor Sedan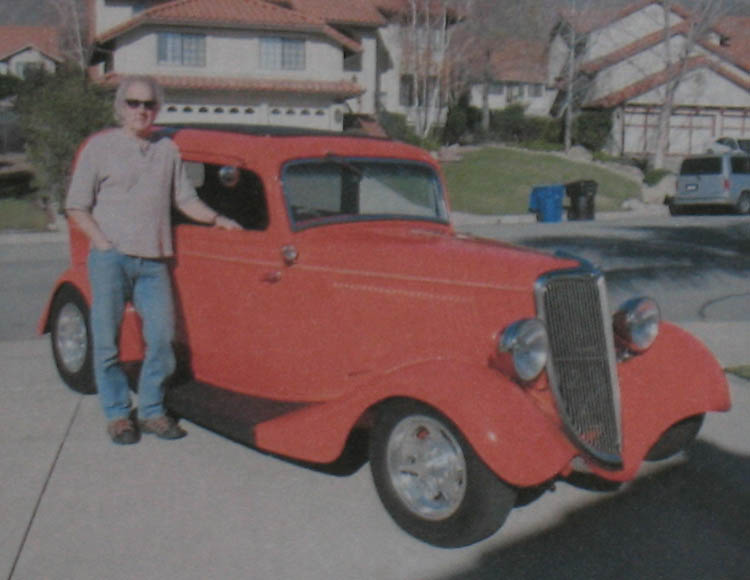 I WAS  SO PLEASED TO FIND THIS CAR RESTORED WITH SO MANY CHANGES THAT IT MADE SENSE TO PURCHASE, AND THEN PERSONALIZE WITH MY CHANGES.  MY OLDER  BROTHER PHIL (4 YEARS OLDER) OWNED HIS 1934 FORD DURING HIS JUNIOR  AND SENIOR YEARS IN HIGH SCHOOL (1959). WITH VERY LIMITED FUNDS AND ABILITY TO RESTORE, PAINT, CHROME, WHEELS, TIRES, AND NEW INTERIOR, HIS CAR VIRTUALLY STAYED THE SAME FOR THOSE COUPLE OF YEARS. FLAT HEAD ENGINE WITH TRI-POWER  EXCITED HIM.
   I (AGE 11 & 12) DROVE IT SEVERAL TIMES UP AND DOWN THE STREET IN ONTARIO WITH OUT HIS KNOWLEDGE. HE WENT OUT WITH HIS FRIENDS ON FRIDAY OR SATURDAY NIGHT, WHICH GAVE ME THE GOLDEN OPPORTUNITY TO PRACTICE DRIVING WITH OUT HIM AROUND. THE GOOD THING WAS, I NEVER GOT CAUGHT, NOR DID I EVER DAMAGE ANYTHING. LIFE WAS COOL AT 12, AT WHICH TIME THIS ALLOWED ME TO PERFECT MY DRIVING STYLE.
  MY 1934 FORD OR (KAREN'S) IS SOMEWHAT BRIGHT IS COLOR;  1969 CAMARO HUGGER ORANGE. I REMOVED THE INTERIOR AND WINDOWS TO PAINT  THE  REVEALS BLACK & REPLACE THE FELT AROUND THE WINDOWS. I THEN INSTALLED A NEW FRONT STOCK BUMPER, AND INSTALLED A STRAIGHT TRUCK BUMPER IN THE REAR. THE NEW GAS TANK COVER WAS MODIFIED, PAINTED AND INSTALLED. ALL THE BLEMISHES AND PROBLEMS IN THE  PAINT WERE CORRECTED. RON'S COLOR  WORKS  IN UPLAND DID THE  STRIPING.
  THE 350 CHEVY RAM FUEL INJECTED ENGINE RUNS WELL. I REMOVED THE  2" EXHAUST AND CHANGED TO 2 1/2" AND OF COURSE INSTALLED  KENNY'S  ELECTRIC CUT OUTS.  I HAD TO RELOCATE THE BATTERY UNDER  THE  FRAME TO ACCOMMODATE THE EXHAUST INCREASE  IN SIZE. THE TOTAL COST  INVOLVED IFS FRONT SUSPENSION WITH G M DISC BRAKES, AND REAR TOTAL COST  INVOLVED 4-LINK SUSPENSION WITH  ALDAN COIL OVER SHOCKS. FORD 8" REAR END.
   THE CUSTOM DASH IS FULL OF AUTO METER GAUGES. THE TURBO 350 TRANS, WITH THE REAR END GEARS LETS ME CRUISE ABOUT 2500 RPM @ 70 MPH. THE VINTAGE AIR CONDITIONING KEEPS ME FROM MELTING ON THOSE HOT DAYS. LIFE IS GOOD, LET'S GO CRUSIN.
RICH M.
Phil & Sharon Preston's 1957 Ford Thunderbird.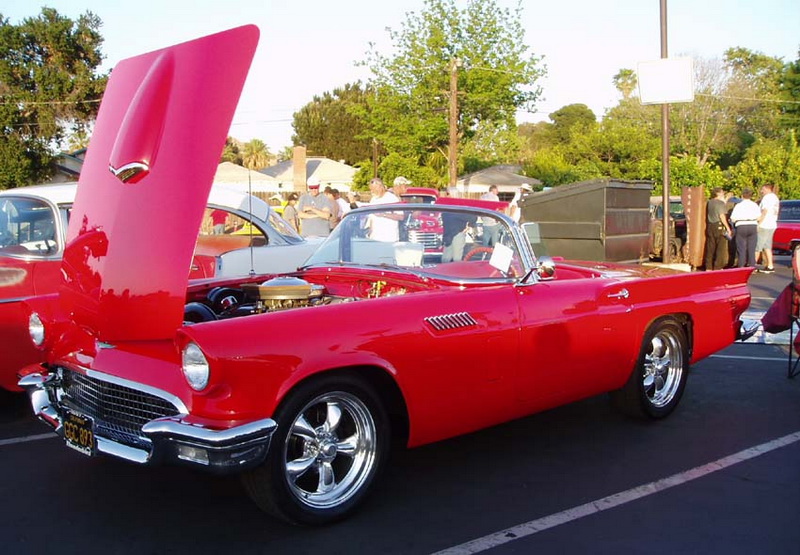 The convertible 'bird was first purchased in 2001 from its 2nd owner in Corona, California.  It had been parked for nearly 10 years, and was in the shape associated with long-term storage.  After getting the car home and performing the maintenance needed like servicing the fuel, oil, cooling & brake systems Phil and Sharon cruised the convertible as is for a couple of years.  As often is the case, the complete rehabilitation began with innocent removal of a trim piece, then another, then another – soon they were past the point of no return…
The complete disassembly took only a short time, and then the real work commenced.  With the body off the frame, parts were examined one by one and then cleaned, painted, polished or replaced as required.  The frame was powder coated by Dynamic in Rialto, and the body painted its Viper Red by Magnolia Auto Body in Ontario.  Bumpers were re-chromed, stainless pieces polished and replacement OER parts obtained through Prestige Thunderbird.
Phil decided to rebuild the stock 312ci motor himself, but to improve drivability changed out the transmission to a cast iron Cruise-O-Matic.  The stunning piece now motors down the road with ease on 17" American Racing Torque Thrust II's on BFG rubber.  Disc brakes were added, to make the car even more cruise friendly.  The interior is as flawless as the rest of the car.  Both a hard top and soft top are being worked over to finish the project.
Phil & Sharon have been greatly enjoying the "new" Thunderbird, and were recognized for excellence at Show & Go 2009, as well as being awarded the "Peoples Choice" trophy at Highgrove Days car show celebration.
Nov/Dec '08
Bob Carroll's 1966 Chevy Impala SS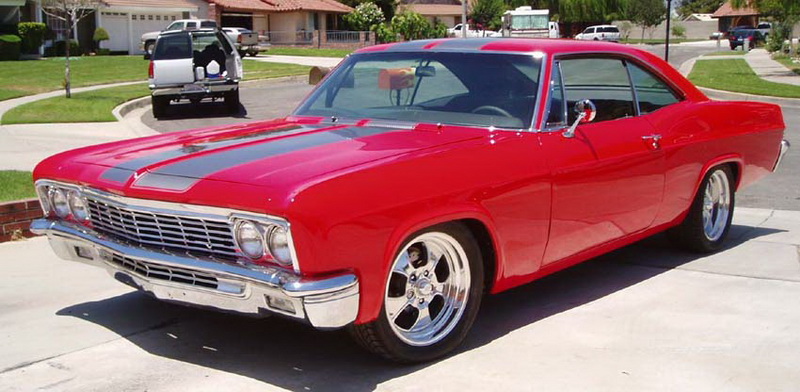 WC Bob found this car in April 2006 via a one-line ad on the internet social networking site MySpace.  A few days later saw him in the hi-desert community of Apple Valley, and the next weekend dragging it home on a trailer.  It sat with no motor/trans. for several months while plans were made for its' future.
Major disassembly began in July 2006, and soon it became apparent that it was to be a more extensive project than originally anticipated.
The front group was removed, and media blasting was commenced - soon a body panel professional and welder were brought in.  The color was chosen, and Painter Mike laid on the SportTouring Red & Charcoal rallye stripes.  After extensive research, it was decided that a 383ci SBC stroker motor was to power the rig, created by Mark Godfrey - backed by a 4-speed 700R4 transmission built by Mogi.  It all spins a fortified 10-bolt reared massaged by Bill Thomas Engineering.  Headers are by Patriot, mufflers Flowmaster and routed by DeAnza of Riverside.
Suspension is a custom combination of Chevy H-D, Classic Performance Products, Hotchkis, KYB & Micron Engineering.  The 4-wheel disc brakes have drilled/slotted rotors, inspired by racing experience.  The low slung stance covers 17" American Racing Hopsters, covered by BF Goodrich g-Force T/A's. 
The interior was created by several different outfits, primarily Desert Sun Auto Interiors.  The front seats were swapped out in favor of low back buckets from a mid-80's Camaro/Firebird, door panels replaced/recovered and back seat rehabilitated.  The stock dash just cried out for something custom - so arrangements were made for it to be manipulated to accept AutoMeter gauges to better match the Touring influences throughout.  A VintageAir unit hides behind the cowling, as does an unbelievably well-designed Zoops serpentine belt arrangement.  The total package is certainly an eye catcher.
Bob would like to first and foremost thank Uncle Larry of LAW Creations.  This project would have never seen the light of day without you. In spite of his opinions and input - it's a wicked ride!
 Also Danny H., Stanley E., Brad S., Bill W., Pete K., Ken  A., Richard W., Marlene B., George & John M., and all the others who assisted with stories and encouragement.  Also most special: Mom & Dad who keep the dream alive...
June/July/Aug '08
Hal Thomas' 1957 Chevy 210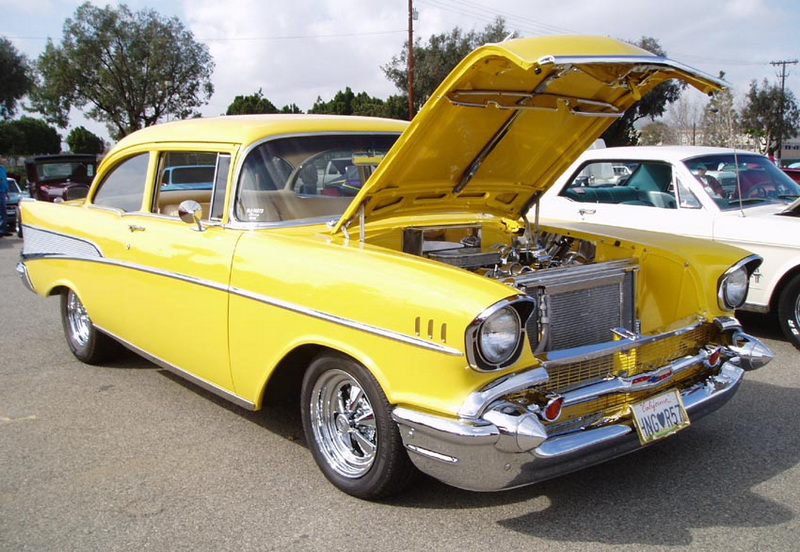 Hal spotted the car of the issue while it was still under construction at Bill Wasson's shop.  If you have ever been there you realize how easy it is to fall under the spell of one of his "obsessions", and almost without conscious  thought decide to make one of his creations your own.  Such was the case with the beautiful Chevy now owned by Hal.
The car was purchased in 2006 – the exact date not quite clear as is often the case in situations like these.  The late Wasson Metals fabricator Midge had collaborated with Bill to produce the Dandelion Yellow body, a totally custom color that draws "oohs" wherever it is seen.  Wes & Terry took over the project upon Midge passing, and saw his vision to fruition.  The interior is finished primarily in fine leather, the color a fair smooth tawny tan that begs to touch how soft it is, but almost afraid of how well it complements the accents –
Hal's showpiece is motorvated by a 305ci SBC, carbureted and surrounded by mirror-like accessories and protected by a stunningly finished engine compartment.  The motor is backed by a TH350 transmission connected to an original configuration rearend.  The miles are made comfortable with power steering and power brakes - with discs up front to ease to a stop when required.  A Vintage Air Conditioning unit keeps the occupants in a controlled cabin climate, while the CD Changer/Stereo package enviable to many entertains auditory needs.
The Chevy 210's first real show appearance was in 2006 on Fremont Street in Las Vegas, Nevada where it was easily one of the best rods on display.  A special presentation was made to the owner at another show soon after in Henderson, Nevada where the car was given the "Paramedics Pick" prize.  Hal has traveled to and participated in the Hot August Nights gathering in Reno, as well as Laughlin.  He can often be seen with his ride at local shows in and around Southern California where he is an active member of the OFRT and promotes the hobby.
Jan/Feb/Mar '08
Bob Nordquist 1966 Chevrolet Chevelle SS396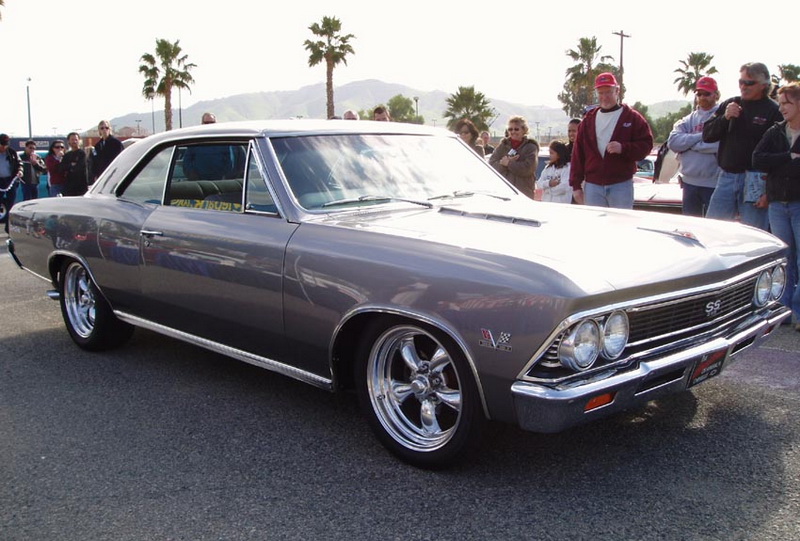 Bob purchased the project in 1994 as a diversion hobby to be different than his day-to-day occupation as a custom cabinet company owner.  It sat in the garage nearly 10 years until he heard about a custom builder in the Riverside area, and made contact with LAW Creations. Uncle Larry and he talked back and forth for some time,  before deciding on a course –
The body and paint appeared to be fresh, but as most who have undertaken such a project know - Appearances can be Deceiving.  They started by blowing apart the front end, pulling motor, transmission, suspension, etcetera.  A pleasant surprise was to find virtually no rust, and a solid platform to build on.  The motor was delivered to Waynes Engine Rebuilding, and reassembled with little modification than bumpier cam.  A wicked Billet Specialties serpentine belt assembly fronts the motor, turning accesories like A/C compressor for Vintage Air - A Mogi built 700R4 automatic overdrive transmission backs the engine, running to a 12-bolt with 3.73 gears. 
Upon upgrade of suspension with parts by Global West, 4-wheel disc brakes were added to complement power steering, and an exhaust routed by DeAnza Muffler featuring electronically controlled open-header cut-outs by Outlaw Muffler.  The rod sits on classic 17" American Racing TorqThrust ll wheels and realed rubber. 
Rufino'sn Auto Body of Riverside was tasked with freshening the exterior, and shot the beautiful '82 Cadillac FireMist Grey paint.  Gonzales Upholstery stitched the Interior, with light grey faux leather - giving a richness reminiscent of a late-model Caddy.  Power windows give another option than A/C while cruising.  A Stereo is planned, to blend with Auto Meter gauges.
Bob has won numerous awards with the ravishing ride including prestigious recognition at Castle Park Rods/Rails, LAW's restaurant, Tuxies, and many others.  He can often be found at gatherings with his beautiful daughter Destiny,  enjoying the sights and sounds -
Bob would like to give special Thanks to Uncle Larry, who performed the majority of work, gave great advice, and became a quality friend in the process.
When you see Bob at shows, go up and introduce yourself to him - being an Old Fart is just another bonus!
July/Aug/Sept '07
Gary Echito's 1954 FordCourier Sedan Delivery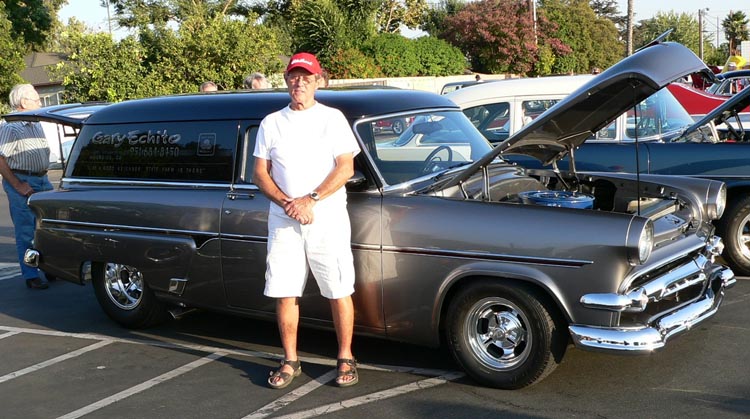 Gary completed the hot rod project last May, after 8 years and approximately 6000 hours of labor.  The car was originally acquired by several other Old Farts who had plans for its future, but none acted until it came to the attentions of Echito and his friend Dave McEniry.  It now houses a 429ci mill matched to a C-6 transmission, transferring power to a narrowed Currie 9" differential.
Four wheel disc brakes slow the car, with vintage U.S. Indy Mag wheels wrapped in BFG rubber up front, and fat Hoosier Pro Street radials out back, 12.5 inches wide!   A custom 16 gallon aluminum fuel tank supplies the go-juice to the 650cfm Edelbrock on top, and custom Chad's Headers of 3" exhaust spent gases out the back, through tubes Jet Hot coated.  The body was shot with Sikkens 2-stage in colors BMW Black Saphir/Sterling Gray.
Gary & Dave spent an exhausting amount of time scavenging for parts, and many of the innumerable modifications began with pieces obtained in junkyards.  Some of the customized features were made one-of-a-kind for the project, like the stainless steel floor strips and unbelievably cool rear hatch.  If you want a lesson in some ingenuity, corner Gary or Dave at a show and start asking questions about the Courier – you'll be blown away!
Dan Brown upholstery of Highgrove stitched up the interior, using gray leather & vinyl, and covering the floor with black wool carpet.  Exterior graphics and lettering were done by McPeaks and Gormo.
One thing you should be aware of – the Couriers first public appearance was at Show & Go 2007 in downtown Riverside.  The prestigious event showcased over 1000 cars, with many professionally built rigs whose owners had little to do with their creation.  Mr. Echito drove off with the K&N award, and has followed that with many more trophies – Congratulations!!!
April/May/June '07
Renel Bollschweiler's 1971 Dodge Challenger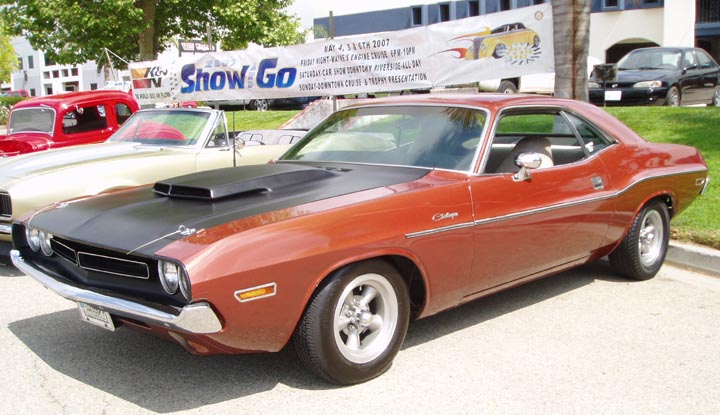 Renel spotted the copper metallic muscle car classic in 2004, made the deal for its purchase, and paid for ownership over the next year before bringing it home from the seller's garage in Rubidoux.  The motor was in need of some care, so the Mopar 318ci was pulled, bored .030 over, and reassembled with a mild Melling street performance cam with help from Kenny A. and Wayne's Engines.  The combination is topped by an aluminum Edelbrock intake manifold and 600cfm Holley carburetor.  The blacked out T/A hood complements it all.
The fine engine package is backed by the factory 727 torqueflite 3-speed automatic transmission with some mild upgrades.  Gear selections are made with the cool Ratchet Shifter.  Street gears of a reasonable ratio turn through the rear differential, and spin the vintage 14" Ansen aluminum wheels. 
The interior sports the original hi-back Bucket seats which have been recovered, as well as a new headliner and carpet.  A custom steering wheel keeps things in control, and a Sun tachometer as well as oil & temperature gauges let Renel know what's going on.
Renel would like to extend a sincere Thank you to all who have helped in the course of his rides reincarnation.  Especially the Old Farts Racing Team members, who gave support in so many different ways.  Renel says it's cool having the car, but it's the friendships created and grown along the way that are most important.
Jan/Feb/Mar '07
Tom McErlane's 1932 Ford Coupe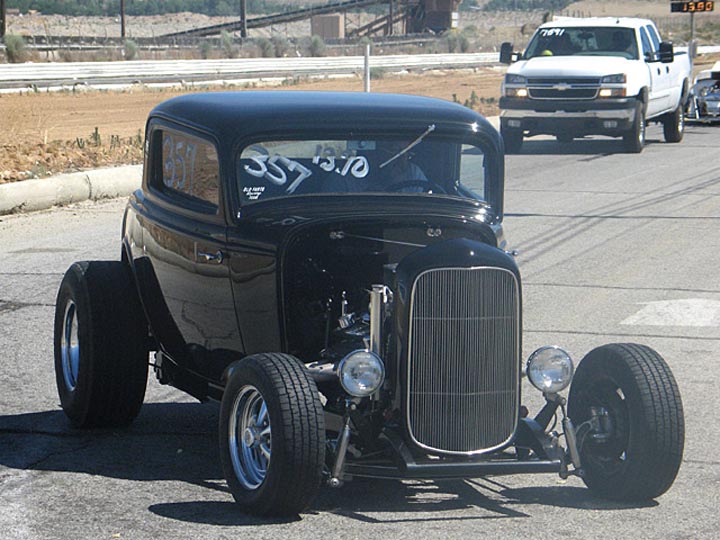 In four years, Tom had driven his '32 coupe all over the United States, racking up over 80,000 miles.  On the day the above photo was taken at the 2006 Antique Nationals, the ZZ4-powered Deuce added a few more quarter miles, on a 13.70 dial-in, with a top speed of 98 miles per hour -
Nov/Dec '06
Mick Hammer's 1956 Chevrolet Pickup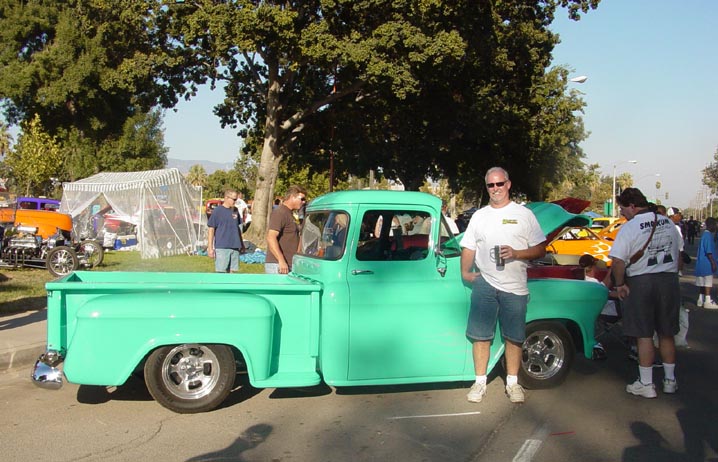 Mick first spotted the Teal colored Apache 3100 Truck with ghost flames at Bill Wasson's shop during a gathering for Christmas festivities in 2004.  It took almost a year of contemplation and discussion before he finally made the deal to make it his own during the 2005 holiday season.
The truck offers a unique look with its '57 hood and grille.  Terry & the guys at Wasson Metals began with a Camaro front clip, and added a Corvette rear-end with Independent Suspension.  4-wheel disc brakes give superior stopping power, to Halibrandt style wheels wrapped in BFG rubber.  The ride is motorvated by a 454ci BBC, running through a Turbo 400 transmission.  Fuel is provided by a stainless cell, and exhaust exits through a full stainless steel system.  If you ever get the opportunity to look under the hood of Mick's rig, you will see a perfect example of a clean, well thought out engine bay.  The projects exceptional execution was one of the primary reasons it stayed on the new owner's mind for over a year.
The Teal color with understated ghost flames often stop people in their tracks as they spot the Truck, and closer inspection shows a detailed bed with wood runners of white oak.  The interior offers bucket seats, and other creature comforts.  Mick has had the stereo re-worked, with tunes now flowing through a setup managed by the famous Audio Shoppe of Riverside.
Over the last six months or so, Mick and his Hot Rod have won several awards at assorted shows and gatherings.  The Friday evening cruise at Tuxies gave him the Best of Show, and he garnered the prestigious Inland Car Club Council pick at the 2006 OFRT Reunion at Fairmont Park.
July/Aug '06
Russ Fielding's 1966 Ford Mustang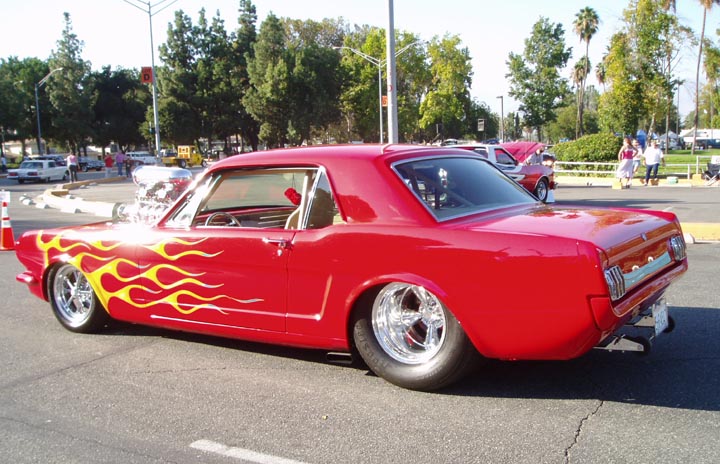 I bought the Mustang with help from my mom when I was 17 years old.  It was my 1st car, and only ran for about a week before the motor gave up!  The car sat for awhile before my uncle offered to help me build another engine for it.  A friend helped me re-do the upholstery, and I drove it about 3-4 years like that before I felt the need for more power – I was in my early 20's when the first Hi-Po motor was dropped in, which really woke up my Pony!
  About 4 years ago we decided to "freshen it up" some, and opened a Pandora's Box leading to what it is today – I wanted it ProStreet, and started with a Chris Alston back half; 4-Link, cage, etc.  A Mustang II front-end was installed, and other custom pieces fabricated and/or obtained.  The motor is a 408ci Stroker with massaged Victor Jr. Heads, 8-71 BDS Supercharger topped by worked over Demon 750 carbs.  The transmission is a race-prepped C-4 manual/automatic.  The exhaust is custom by Chad, with Outlaw Cutouts.
   The spectacular Paint & Bodywork was developed by Painter Mike, and the flawless interior produced by young Mark Lopez of Elegant Auto Interiors of Upland, CA.  A number of Old Farts and their associates were involved in this creation, and I would like to thank you all.
  The Mustang has won a number of awards, most notably at the annual Grand National Roadster Show, Pomona and 2005 Route 66 Rendezvous in San Bernardino.
OFRT Hotline 909-320-8656